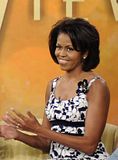 All it happened on the America's most popular morning show, ABC-TV's "The View." Michelle appeared on the show in a simple black & white printed dress by Donna Ricco. Amazingly, the designer herself was unaware of her that style achievement.
The "Tank Leaf Print" took Donna Ricco overnight to the zeal of fame and success.
With the trendsetters like Beyonce, Jessica Simpson, Kate Hudson and Victoria Beckham in her permanent customers list, Donna Ricco is now considered as the best female designer of this era.
It is not easy to "live in" the White House, but Dress4Less has made it possible for you to "live as in" White House!